In my earlier years, I experienced hard work in a traditional Mexican, Native American setting.  I know what getting up at day break means in order to beat the scorching sun to the dusty Arizona cotton fields.  I also remember the taste of my Mama's bean burros that she prepared before sunup.  The beans would soak into the tortilla after resting in the shade of a cotton plant and the ice in a glass jar would melt, yielding a cool drink to wash down our midday meal.  It was a great time, where Spanish conversation and song rolled across the fields like an always welcome breeze or Mexican serenade.

This is one of many stories about how I grew up in the Indian Village near what is today, Fort Lowell Park, Tucson, Arizona.

After four years in the US Navy and a tour in Viet Nam I joined the Tucson Police Department.  I also served in the US Army.  Years later I ran for public office and was elected to the Pima Community College Board of Governors. " Imagine, me the kid that ran around the Arizona desert with no shirt, bare feet and denim-cut-offs, elected to the Board of one of the nations largest colleges.

About Eduardo

Eduardo Alberto (Ed) Wagner

The following is just part of the story on why, I am an expert in reaching and penetrating the Hispanic Market.

ESPN Radio

Talk Show Host, Reno, Nevada

"Speaker - Trainer"

Radio Talk -Show Host (ESPN Spanish)

TV Talk-Show Host (Hispanics Today & Tomorrow)

Professional Rodeo Announcer ( Fox Sports - Bull Riding TV - English & Spanish)

TV Spokes-Person (English & Spanish)

TV Color - Commentator (English & Spanish)

•

Co-wrote, produced, and directed video productions, one in 
       which I first place received national honors.

•

Managed telecommunications sales offices in Tucson and
      Phoenix, Arizona with Corporate offices in Mexico and the

      United States.

•

Director of International and Hispanic Marketing

Moret Advertising Inc. - Tucson, Arizona
•

Executive Director

Hispanic Chamber of Commerce of Northern Nevada – Reno, 
      Nevada The HCCNN is the largest nationally recognized

      business and professional organization in Nevada.

•

HS Marketing-Consulting LLC – Tucson, Arizona

Consultant, Speaker, Trainer, develop and implement training 
      programs, Expert in Hispanic Marketing, Media, and Public

      Relations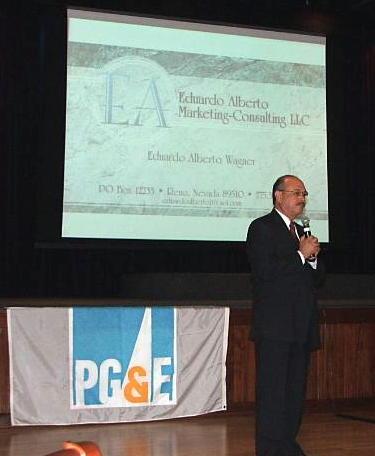 "You Can't Sell Me if You Don't Know ME"

The Hispanic Market